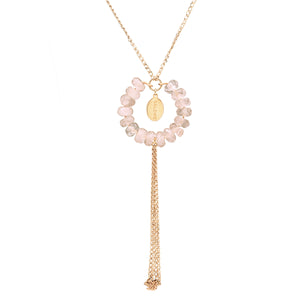 Bridal Collection Tribal Rose Quartz Necklace
Regular price $109.00 Sale
Beautiful for brides and bridesmaids alike, the Bridal Collection tribal rose quartz necklace uses unique and eye-catching design alongside the natural beauty of the rose quartz to create a statement making necklace to add feminine class to your special day.

The Bridal Collection tribal rose quartz necklace features a garland of individual enchanting rose quartz gemstones with a gold chain fringe tassel draping from the bottom, and a gold plate SALOME token suspended in the centre. Blending unique tribal design with the feminine delicacy of rose quartz, this necklace adds a touch of classy and eye-catching style to your wedding day outfit.
Rose quartz is considered to be the stone of love and friendship and is said to offer the wearer protection from stress, both emotional and environmental – perfect for a releasing your inner unshakeable, ethereal goddess.
All stones are natural stones and may vary from the product pictures.
Our Gold is 24ct 2.5 microns of Italian hand dipped, Gold plated.