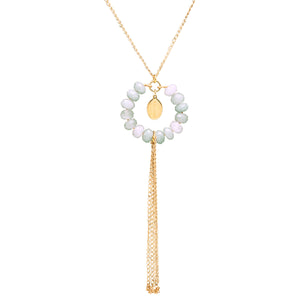 Bridal Collection Tribal Aquamarine Necklace
Regular price $109.00 Sale
Whether you want to add a stunning focal point to your bridesmaids' outfits, or add a glamourous touch to your own, the Bridal Collection Tribal Aquamarine necklace is an eye-catching "something blue" for your special day.

The Bridal Collection tribal aquamarine necklace features a garland of hypnotic aquamarine gemstones with a gold chain fringe tassel draping from the bottom. In the centre of the garland is a gold-plated SALOME token. Blending the unique design with the delicate greenish blue colour of the gemstones makes for a statement-making necklace that adds a splash of the Mediterranean to your big day.
Aquamarine is said to be the treasure of sailors and mermaids alike, and is believed to bring the wearer luck, protection and fearlessness – perfect for a rock-star bride.
All stones are natural stones and may vary from the product pictures.
Our Gold is 24ct 2.5 microns of Italian hand dipped, Gold plated.