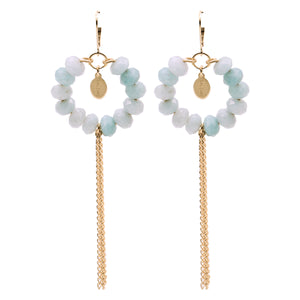 Bridal Collection Tribal Aquamarine Fringe Earrings
Regular price $136.00 Sale
Be the star of the show with the Bridal Collection Tribal Aquamarine Fringe earrings and make your "something blue" work to make you an eye-catching and elegant vision on your special day.

Featuring a garland of individual aquamarine gemstones which encircles a gold-plated SALOME token and with a fringe tassel of gold chains draping from the bottom, the Bridal Collection tribal aquamarine fringe earrings are a statement-making focal point for your wedding day outfit. Blending dazzling design with the natural and delicate beauty of aquamarine gemstones, these earrings are sure to make you feel like the queen you are.
Aquamarine is believed to offer the wearer luck, protection and fearlessness, making it the perfect "something blue" for a bride who wants to turn heads.
All stones are natural stones and may vary from the product pictures.
Our Gold is 24ct 2.5 microns of Italian hand dipped, Gold plated.