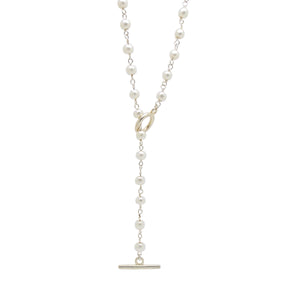 Bridal Collection Silver Pearl Lariat Necklace
Regular price $72.00 Sale
Taking the elegant chic of pearls and blending it with the modern and eye-catching lariat design, the Bridal Collection Silver Pearl Lariat necklace is a graceful ode to traditional wedding day jewellery.

Featuring a silver chain scattered with chic, shimmering pearls and a lariat fastening, the Bridal Collection silver pearl lariat necklace adds a feminine and elegant touch to your wedding day. With the classic combination of ethereal silver and classic chic pearl, this lariat necklace is a beautiful and elegant adornment to go with any bride's dream dress.
Pearls are traditionally symbolic of purity and loyalty and are said to offer emotional balance and inner wisdom thanks to their lunar elements. They also lend an air of classic style, perfect for a bride to unleash her inner Rockstar or serene goddess on her big day.
Wear this design two ways; with the lariat as the forefront of the design or functionally as a fastening to the necklace, worn at the back of the neck.