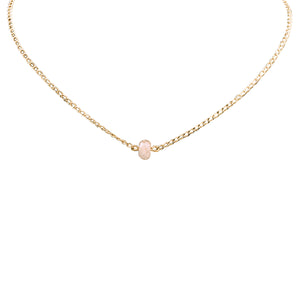 Bridal Collection Rose Quartz Necklace
Regular price $71.00 Sale
Minimalist design and understated chic elegance are embodied in the Bridal Collection rose quartz gemstone necklace, creating a graceful and classically stylish piece to add a touch of sorbet pink to your special day.

Featuring a fine gold-plated chain, punctuated by a single, enchanting rose quartz gemstone, the Bridal Collection rose quartz gemstone necklace exudes style and sophistication. The colour combination of the delicate rose quartz against the rich gold creates a feminine and luxurious splash of class to complement your wedding day outfit.
Rose quartz is traditionally the stone of love and friendship, and is believed to shield the wearer from stress, both emotional and environmental – the perfect stone for a bride who wants to be confident, calm and the embodiment of ethereal goddess.
Wear this design two ways; with the lariat design as a functional fastening to the necklace worn at the back of the neck, or at the forefront of the design. 
Our Gold is 24ct 2.5 microns of Italian hand dipped, Gold plated.